MASTERS ACETAI FROM GENERATIONS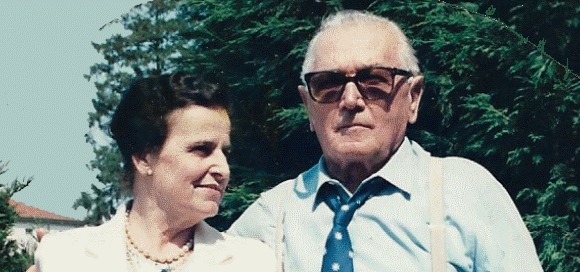 In the early 1940s, Lodovico Rossi, who had been lucky enough to survive the war in the Aegean Sea, was able to fulfil his dream and passion of setting up his own Traditional Balsamic Vinegar cellar, partly thanks to his wife Maria's determination and support, by purchasing 85 small barrels that had been registered and branded in 1900. These were then moved to his dwelling, the MULINO DI NAVICELLO, a magnificent 17th-century house
which, in the past, was a "postiglione", i.e. a ckeckpoint where wayfarers had to pay to cross the Panaro river, and used to be a convent and, finally, a mill. In the following years, the vinegar cellar was enlarged and developed to the point where there were almost 500 small barrels.
Lodovico and Maria's daughter Cristina married Giancarlo Serafini from Nonantola, who was so fascinated by Balsamic Vinegar that he decided to take over the business, even though he had to travel a lot for work, and turned it into a full-cycle company with its own vineyard in Nonantola. In the early 1980s, at a time when the Traditional Balsamic Vinegar of Modena designation was being introduced, the Rossi-Serafini company, headed by Giancarlo, became one of the founders of the Producers' Consortium while always complying with the strict procedural guidelines for "DOP" (PDO – Protected Designation of Origin) products.
For several years now – thanks to Giancarlo and Cristina's daughter Carla, their son Davide and, in particular, their younger son Paolo – the old vinegar cellar, the Antica Acetaia of the Mulino di Navicello, has been run by the third generation of the Rossi- Serafini family. The Antica Acetaia, now known as Il Poeta, is designed to welcome visitors from all over the world. This, however, does not mean that we have lost touch, neither fully nor partly, with the roots of a tradition that teaches the art of storing vinegar patiently, expertly carrying out all the steps using small barrels of various sizes made of different types of wood, so that – over time and by following the traditional method – we can obtain the true Traditional Balsamic Vinegar of Modena.
In 1992 Poeta's vinegar cellar ranked first in the prestigious Palio di San Giovanni with 336,66 points out of 400.
In 2005 it contributes to a promotional action within the Oscar Night Party 2005.
Il Poeta becomes supplier of La Pergola restaurant at Roma Cavalieri, Waldorf – Astoria, under the illustrious guidance of chef Heinz Beck.
In 2013 the vinegar of the Poeta combined in competition with two master chocolatiers wins the first and second prize of the event CIOCCOLATO VERO held in Modena.